Did you know that the majority (over 70% in 2022) of your local property taxes go to education? Do you have an escrow or are a renter? Don't think you're safe, you're likely to see increases in the near future.
The Milton Town School District Board of Trustees has approved a proposed budget for FY24. The budget includes a $1.7 million increase in spending from FY23, which equates to an increase of 5.22%. That translates to a spending of $19,480.16 per equalized pupil, which is an increase of 11.57% from FY23.
The MTSD School Board continues to state that the homestead tax rate will be decreased from $1.1857 to $1.1757, but keep in mind that the official tax rate isn't determined until mid-summer each year. In 2022 the approved education tax rate in Milton was $1.5520, but this was reduced to $1.1857 based on a one-time allocation of funds by the State (State Covid Adjustment) and the Town reassessment (Common Level of Appraisal). What kind of financial cliff will this leave Milton residents in at this time next year?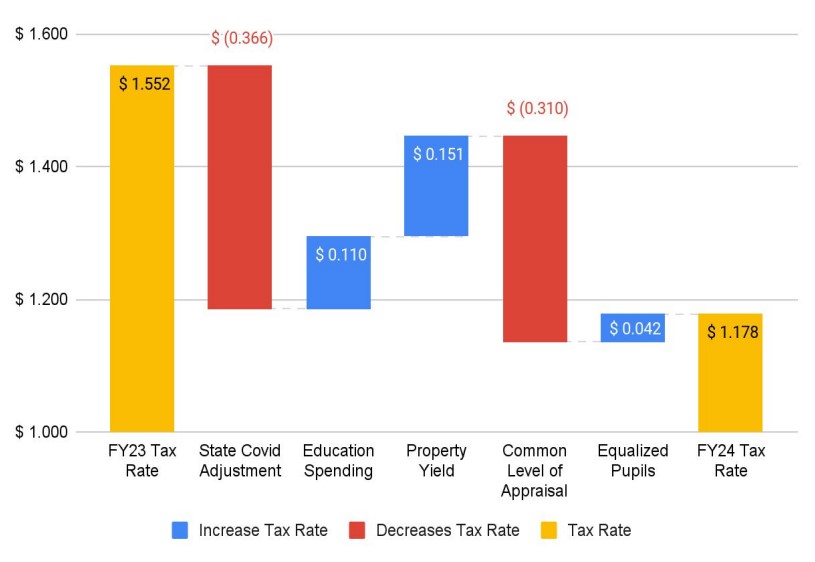 Spending appears to be out of control in MSTD. The FY23 budget was already up $1.2 million (3.66%) from FY22, and with the coming expiration of ESSER grants there is no sign of slowing. For reference, the State average tax rate increase is 3.7%, even under the current inflation rates.
You can find the proposed budget here, along with other information presented by MTSD. All the numbers in this article can be found by reviewing the information at the link provided.
---
A list of notable budget items:
Educational Spending District Wide – 1.4% increase ($209,266 from FY23), which is well below the 5.22% increased budget proposed.
Elementary School Budget – 2.97% increase ($334,369 from FY23)
Special education spending will increase by $107,200 from FY23.
Facilities operation will be increase by $132,282 from FY23.
A new Reading Specialist adding $53,448 – to help with underperforming literacy rates in grades kindergarten and 1st grade.
Middle School Budget – 8.83% increase ($592,053 from FY23)
Special education spending will increase by $175,765 from FY23.
A new Health Teacher adding $67,757 – increasing health classes from 12 per year to 60 lessons per year for children ages 11-14.
"improper use of technology, bullying and harassment" and "sex education is lacking, they don't really understand it, yet it seems to be a time where it's necessary"

Amy Rex, MTSD Superintendent – MTSD School Budget Presentation 1/30/2023
High School Budget – 4.13% increase ($459,677 from FY23)
Direct instruction will see a $199,714 increase from FY23.
A new Innovation Lab Teacher adding $84,032 – this position will essentially serve as a shop and innovative technologies (e.g. 3D printer, computer lab, etc) teacher.
Special education spending will

decrease

by $152,414 from FY23.
Transportation Services increase of $150,000 from FY23.
District Office Budget – 8.93% increase ($341,418.01 from FY23)
Other Support Services – School Administration will see an increase of $151,024.45 from FY23
District Wide Salaries
All principals and most district wide administrators are receiving a

9.99%

(or greater) increase in salaries.
The superintendent is receiving a

9.47%

increase in salary (which was negotiated in her contract signed in 2020 by the MTSD School Board).
These increases do not include the over 12% increase in health insurance costs.
---
Not all of the proposed budget item increases are unwarranted. We certainly need to do something about the trend downward in literacy rates, and no one is suggesting that we reduce funding for special education, however, spending needs to be reevaluated, not just in terms of amount, but also where we are allocating it. You can find a full, line-by-line, breakdown of the budget here.
---
Consider This:
How can we justify increasing our budget by 5.22%, while only increasing our educational spending by 1.4%?
Why are we increasing administrative salaries so drastically (9.99% in most cases) and adding positions at a time when Vermonters are feeling such financial hardships?
Did you receive a 10% salary increase at your job in the past year?